Introduction
When looking for a PC luggage, there are so many features to watch out for. Apart from the material, size and possibly the price, you also need a PC luggage that speaks of your style and preferences. That is what retro-style IP luggage is all about.
But as you probably already guessed, most retro-style PC luggage do not come cheap. This is because most manufacturers tend to leverage the hype around them to set unreasonable price tags, thereby making these luggage largely exclusive. However, there is one manufacturer that believes stylishness and affordability do not need to be mutually-exclusive, and that's what Smart Trunk is all about.
Why Consider Us as Your Ideal Retro-style PC Luggage Supplier and Manufacturer in China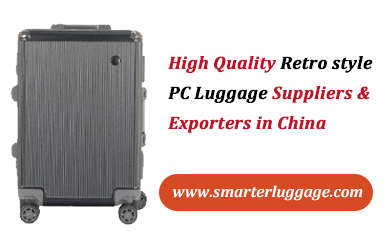 We Bring The Best In Style
As we have already mentioned, we offer some of the best retro-style PC luggage you can ever get anywhere. At Smart Trunk, we often go out of our way to investigate some of the most popular styles out there.
We believe that when it comes to PC luggage, there are those that prefer the chic and simplistic styles, and then there are those that will go for vintage luggage. As a result, we ensure we manufacture and supply luggage that appeals to different tastes. You can look to us as your one-stop shop for whatever style of PC luggage you are looking for.
Durability
Apart from our amazing retro-style PC luggage, you will also find our products fairly durable. For starters, most of our retro-style PC luggage are designed in aluminum frame. With such a strong frame, you will never have to worry about your bag suffering dents or scratches.
This ensures your luggage lasts for as long as reasonably possible, thereby giving you a great bargain in the long run. It is the incorporation of such durability features that makes us the most recommended China hard luggage manufacturer.
Mute Wheels for Seamless Movement
One of the most common nuisances shoppers have to contend with is buying PC luggage with noisy wheels. Imagine walking into a quiet office or other areas that require you to maintain maximum silence but your PC luggage just won't allow you to.
Thankfully, you can now experiment with our luggage that come complete with mute wheels for seamless movement. Even better, these wheels are made of strong material. This makes it possible to haul them on any surface.
Soft Polyester Lining
Away from durability and style; when buying PC luggage, you will undoubtedly consider the comfort and softness of the inner linings. Here at Smart Trunk, we understand that all too well. That's why our luggage come with soft polyester lining to buffer any shock that the luggage could suffer from, for example when you accidentally hit a hard object. We do not only strive to keep your bag safe and durable, we are also concerned about the safety of your PC.
In addition to this, you will also be able to take advantage of our retro-style TSA locks. These locks make your luggage compatible with various travel regulations around the world.
Affordability
With all the above intuitive features, it will interest you to note that our retro-style PC luggage are still fairly affordable. Our goal is to ensure our customers can get their hands on some of the best styles of PC luggage regardless of their budget needs. This is why apart from these luggage, you will find virtually all our products fairly-priced.
Conclusion
Are you still looking for an ideal Retro Style luggage factory in China? Look no further. Give us a call today at +86 137 2377 4377 or +86 188 2582 1428 to place your order.