While you are travelling, it is very much important to carry hard luggage with you. You can get so many China Hard Luggages. But SmartTrunk is the best one among all. We provide you with the high quality hard luggage for your benefits and safety as well. We are the smart one in this industry. We have expanded our market all over the World. We understand the needs of the customers and try to serve them best.
Wheel ability:
Generally most of the luggages are sold those have wheels. People do not want to buy big luggage without wheels. We always try to fulfil the requirements of the customers. We sell the luggage with four wheels or two wheels. You will have to decide what you need exactly. Our products with four wheels are easy to navigate in narrow places such as in aeroplane. You can find high quality products in our shop.
Durable products: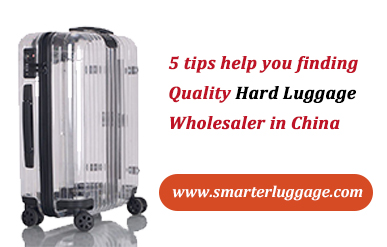 We make durable products. Our company tries to meet the needs of our clients. We make strong and hard products that are durable enough. We use chain zippers in order to make our luggage strong and durable as well. Our strong products can last long. You can use our products as much as you can. Our products are scratch-resistant and strong as well.
Customized items:
We also sell the customized items to our customers. There are many customers who want to print and encrypted their names or the initials on their luggage. We also do this for them. We want to satisfy our customers. Our customized items are now high on demands. We produce the smart customized products for our valuable customers.
Certified wholesaler:
We are the top most certified wholesaler in China. We are one of the best aluminum luggage suppliers in China. We also sell carbon fiber luggages. We are one of the licensed manufacturers and suppliers in China. Our new and advanced products are perfect for each customer. We have earner so much fame in this industry. So, you can keep your trust on us and our products as well.
Various products:
We produce various kinds of high quality products that you can get at affordable price as well. In our hard luggage, you can get front zipper pocket. This will give you some extra benefits. In this separate holder, you can put the laptop at the time of travelling. The carbon fibre hard luggage is very much strong and durable. These products are scratch-free and you can get the high quality finishing. Our transparent luggage is made with polycarbonate materials. Soft polyester lining is there. We make advanced and smart luggage like these.
There are so many new and smart products in our stock. You can check out our new retro style luggage. We always try to balance in between style and quality of the luggage. Our employees are highly professionals. They always try to maintain the style, fashion, durability and longevity as well. You can get so many style and colour options in our company. You will have to visit our online link if you want to check some more features of our luggage.