Traveling has become a fundamental part of our lives. Now and then you need to travel due to business conferences or meetings. Plane travel today entails a lot of security checks. With time and increasing awareness of fashion and design, everything has changed. Luggage is no exception. There has been a revolution of sorts latest in the travel bags market, and now, you can find yourself looking at a diverse and colorful range of bags.
Smart Trunk, China hard luggage factory is a professional luggage bag manufacturer in Dong Guan city, which manufacture over 10000pcs luggage and more than 30000pcs bags daily. This company has 200 experienced workers at luggage production lines, and 500 skilled workers at bags production lines who are ready to build a new model according to your requirements.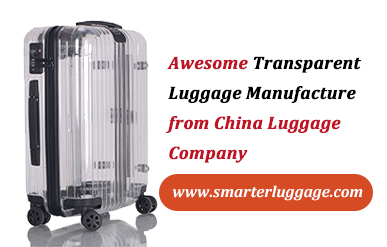 Furthermore, this China luggage company have designed and molded more than 100 styles for your selection. They've also formed a transparent suitcase of clear 100% polycarbonate material which has black supports and sizes available from 20" 24" and 28."
Security check
The transparent luggage is made from, comes with TSA lock, with a new robust mute wheels design to maximize mobility, aluminum alloy trolley, and has a soft polyester lining. The transparent case makes it easier to go through security and prevent officials from going through your bags.
Lighter materials
Travel bags serve a range of purposes. You might have found yourself at the boarding desk of a flight suddenly being denied your cumbersome bag because it was too heavy. If you carry a transparent travel bag, however, you are probably not going to have such a problem. They are made of lighter materials that are easy to push, carry easing your travel. Smart Trunk provides high quality and beautiful transparent luggage creating more value for customers business.
Ergonomic design
The bag comes complete with private packing cubes so more private things can be hidden. These cubes are usually fitted with a lot of pockets on the inside; a good travel bag can be packed full of a thousand little nick-knacks and still not run out of space.
Durability is an essential concern while choosing the bag of your choice. Fortunately, these bags are sturdily built to last. Furthermore, in case something breaks or spills inside, they are easy to clean.
Summary
To guarantee a comfortable journey, you will want to invest in a good travel bag. This is a sort of bag where you place everything that you will require for your tour. It can be a big as an actual carry-all where you can put in practically everything or small transparent purse that contains your toiletries and can be placed inside your luggage.
Travel bags these days come in a wide array of designs and forms. The clear case is a new trend in travel luggage. The design team at this transparent luggage suppliers began thinking about transparent bags after that and felt that it was echoing social concerns surrounding security versus privacy. So, before your next trip, go out and buy yourself a new bag from Smart Trunk. Make your trip pleasant and convenient, and look good doing it.