When choosing which hard luggage is best, there are many varieties to consider at SmartTrunk. Based on, Dong Guan city, Guang Dong province, China. The company manufactures as well as exports luggage worldwide. With over 200 skilled workers at their luggage production lines, the company is mainly focused on making luggage for world brands.
Among the variety of luggage produced is the 100% polypropylene suitcase, a favourite among most travellers.
Material and Design
Polypropylene is a type of plastic that has a wide variety of applications since it's the second most used plastic in the world. Since it's the lightest plastic out-there, SmartTrunk's polypropylene luggage are among the lightest luggage in the market.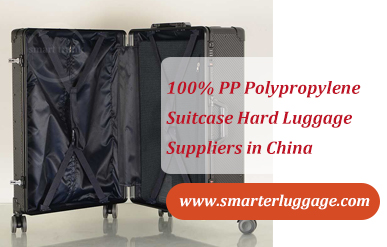 Hard luggage manufacturers use polypropylene because it has a similar chemical as well as temperature resistance as polycarbonate. Furthermore, it's only used to make the case of the suitcase, but also can be used for other options such as making the wheels.
There are different design options out-there in the market. However, most of them have similar looks, but there are features that make each piece different. The polypropylene luggage comes with four free rotatory wheels which give excellent 360-degree mobility on flat surfaces.
Like most hard polypropylene luggage, it features a top and side handle for easy lifting as well as a zipper to connect the two cases and a number combination lock.
Other than polypropylene, aluminum (a light-weight metal) is also used to make the frame as well as the trolley rod, which is used to pull the luggage.
Alternatively, SmartTrunk has a team of designers ready to offer customization for worldwide brands looking to create their new product. Currently, SmartTrunk's polypropylene luggage is available in four colours for wholesale buyers but can offer customized colours.
What are the Sizes?
For anyone planning to travel, luggage size is always the first thing in mind. Most airlines have very strict guidelines when it comes to weight and size of luggage. SmartTrunk's polypropylene luggage are available in 20, 24, 28 inches.
Such sizes are most popular as well as suitable for individuals taking trips that last for a week or longer. This means SmartTrunk's polypropylene luggage is fit for long vacations as well as family trips.
Reliability and Durability
Hard-sided luggage offers more durability than the soft-sided counterpart. Polypropylene luggage is the second most durable with temperature and chemical resistance. This allows it to withstand abuse from luggage handlers at airports as well as from elements like water and dirt.
With all this, SmartTrunk's polypropylene luggage are quite reliable and are expected to offer you service for a long time before they wear out. Other than that, they offer more protection for your valuables with their ability to absorb impact and not forgetting that it the lightest luggage out-there.
Price?
Like the weight, size, and material, the price of the luggage vary as well as it matters. With SmartTrunk's polypropylene luggage, their prices are quite affordable for a product that is more durable and will last a bit longer when exposed to the everyday elements of travelling.
Moreover, the company offers factory price and the best shipping for anyone who buys in wholesale. So when choosing a hard luggage, polypropylene luggage is the most versatile as well as moderately affordable for people who travel frequently.
http://www.smarterluggage.com/hard-luggage/pp-luggage-6015.html