If you are searching for the best manufacturers and suppliers of China hard luggage then Smart Trunk can be the best choice for you. They are known as one of the best Chinese hard luggage manufacturers in the city of Dong Guan in Guang Dong province of China. Today this hard luggage China wholesaler is run with the help of 500 skilled workers but before 2019 the production line of the company was based on 200 experienced and skilled workers only.
About Smart Trunk
Smart Trunk is one of the best hard luggage manufacturers and hard luggage China wholesaler which manufactures and supplies the best quality professional luggage. The factory of this China hard luggage company is situated in a room with 20,000 sq. meter area in the city of Dong Guan in the Chinese province of Guang Dong. Initially, the product line of this company was managed by 200 experienced workers but in 2019 the company has employed 500 skilled workers to manufacture its high quality. This company produces approximately 10,000 pieces of hard luggage every day along with 30,000 pieces of soft bags. The company is certified by WCA and ISO9001 and is audited by SEDEX.
Hot-selling products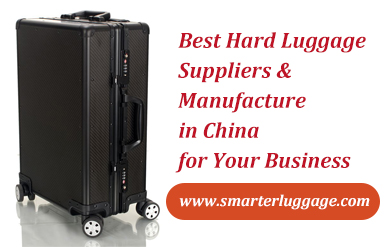 The hot-selling products of Smart Trunk as a manufacturer and hard luggage China wholesaler include bags and hard and soft luggage each of which is available in 6 different colors to choose from. You can get the best low MOQ services, fast delivery of mix colors and styles with best shipping options at factory price if you buy their products in wholesale for your business.
Some of the hot selling products of Smart Trunk include:
The material used for making this luggage is polycarbonate or PC. It also includes frame made from aluminum alloy. Its front pocket with zip includes a laptop holder to hold your laptop safely. It can be moved easily with the help of its durable mute wheels and aluminum alloy trolley, mute durable wheels. This luggage is available in two sizes, 20" and 24" in 5 color variants. TSA lock on this high-quality hard luggage helps in keeping your belongings safe.
This 20" size hard luggage has TSA lock and aluminum frame to make it safe and long lasting. Its parts are molded from aluminum alloy and black colored scratch resistant material. The pull rod of this high quality and highly finished luggage is made from aluminum alloy to make it strong and durable.
The frame of this vintage style luggage, made in two sizes 20" and 24", is made from Aluminum frame. Its other parts are made from aluminum alloy and black colored real carbon fiber. It also includes TSA code lock to keep your belongings safe.
Customized products
As hard luggage China wholesaler, Smart Trunk can also provide customized items to its global clients. The team of designers of this hard luggage manufacturers can design luggage options for you as per your needs as they have already designed more than 100 models of different types of luggage items.
So if you are searching for the best manufacturer and supplier of China hard luggage then you can contact Smart Trunk any time to get a reply of your queries within 5 minutes.