We are one of the best Hard Shell Suitcase Suppliers in China. Our brand consists of a variety of different suitcases to meet different clients' needs.
As suitcase manufacturers, our priority is to ensure that you get one which will not only serve your needs as a traveler but will also ensure the safety of your items.
FEATURES OF THE SMARTTRUNK PC LUGGAGE SERIES:
SmartTrunk is a high-quality PC Luggage Manufacturer and exporter in China. We have a variety of PC luggage including:
• Bayer PC Luggage 6018

• Aluminium Luggage HF011
• Metal Luggage 8012
• Aluminium Alloy Luggage 8011
• 3-piece Rainbow Luggage Set SA324
• ABS Luggage Set SA320, just to name a few
Here are some of the exquisite features of luggage bags in our series which make our product Number 1 in the market!
SCRATCH PROOF
Whether you are traveling by plane or on land, your luggage is deemed to get destroyed through friction with other surfaces. Our hard suitcase China Factory has manufactured the bags in such a way that they are scratch-proof.
This not only ensures that your luggage bag stays new for a longer period of time but also you save money that would have been used to acquire another bag.
STRONG MUTE WHEELS
Wheels make your luggage lightweight and this will help you move faster. You no longer have to worry about packing less for fear of having a eavy' bag.
Other than this, the wheels do not produce any sound, thereby giving you a quiet, peaceful trip to your destination and back.
SOFT POLYESTER LINING
Polyester is a soft material that is commonly used in making clothes. We have incorporated this material into our product to ensure that the items stored inside the bag are not exposed to harsh materials.
Furthermore, polyester is flexible and resists shrinking and formation of wrinkles. This flexibility allows you to pack in more items in the bag while the resistance to wrinkles ensures that your clothes will be in perfect condition despite being stored in the bag for hours.
ALUMINUM FRAME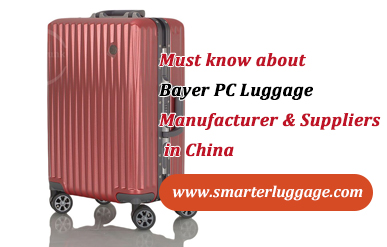 One of the advantages of aluminum is that it oxidizes quickly. This feature is beneficial in that it will prevent further corrosion by water, air or chemicals.
The protective coating will make your bag more durable since it will not get damaged by being rained on or staying out in the sun for too long.
Aluminum material is also naturally lightweight and so you can be assured that your bag will not weigh more than it should due to excess bag weight.
VARIETY OF COLORS
Our products are available in different colors such as red, pink, maroon, green, black, blue, silver, among others. So whether you want to match your bag with your mood, we got you! These vibrant colors also make the bags the perfect gift to someone depending on their personality.
CONCLUSION
Other than the amazing features listed above, SmartTrunk PC luggage also comes in a matte finish (for instance the Bayer PC Luggage 6018) or the regular shiny finish (such as the Aluminium Luggage HF011), it all depends on your preference. Our products are also affordable and have corner protection in order to promote the safety of both the bag and the user.